Owl has introduced a dashboard and additional exports that allow users to view all their Stripe payment information in one place. These resources were created to take the place of previous data accessed via the external Stripe dashboard users had access to for payment details. You will now be able to see transactions, payout details and fees taken from Stripe all from within your Owl account. Please note that only Owner users will be able to access the Stripe dashboard and exports.
To see these new features, login to your Owl account and go to Dashboard > Stripe in Owl. In this section, you will see two tabs at the top of the page, Payouts and Payments. Each of these tabs contain valuable information about the payments made via Stripe for your practice and will help make your accounting and reconciliation processes easier.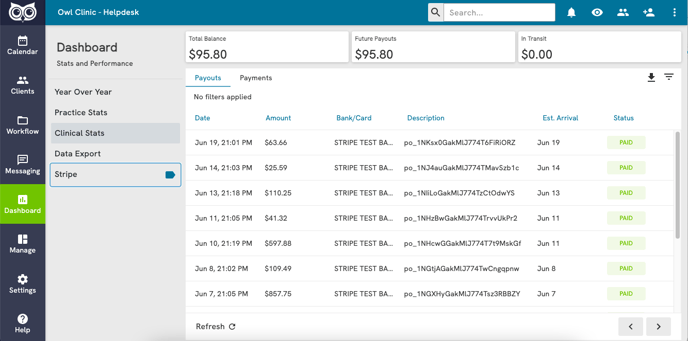 The Payouts tab shows the past and current payouts in progress for the bank account connected to your Stripe merchant account and the expected date those funds will be deposited. Here you can see the amount, status and the description for each payout. If you are looking for more information about exactly which payments have been included per payout, you can open the Stripe Payout Transaction Export
The Payments tab shows each individual transaction completed via Stripe by Credit Card or EFT. Credit card payments will show right away, whereas EFTs will only show once the transaction has been fully completed and the funds have settled. This may take 1-2 days depending on the response timing from your client's bank. This tab also has a direct link to the receipt for the session in which payment was made on the right.
Two new exports have also been added in the Data Export section of your Owl account. These new exports can be found at the bottom of the page and are called Stripe Payout Export and Stripe Payout Transaction Export.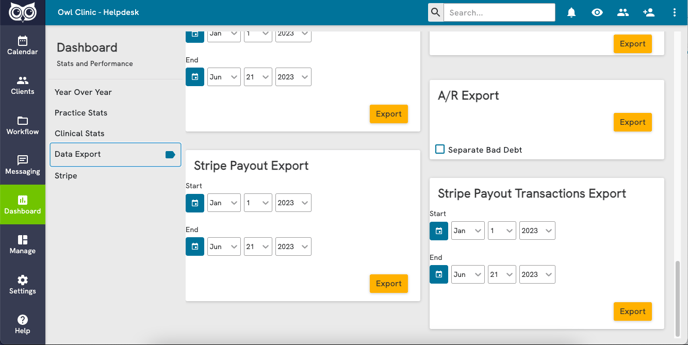 The Stripe Payout Export is a simple, downloadable version of the Payouts section in Owl. It contains the description (the payout ID number), amount, date and status of any payouts made to the merchant bank account connected to your Stripe account for payment processing settlements.
The Stripe Payout Transaction Export contains more information about which specific transactions were grouped in which payouts. This report shows exactly which receipt ID's correspond to each payout description. This report shows the status of each payout, as well as the date it has been paid out. It also includes fees taken by Stripe for your convenience when you are working through and reconciling your clinic's end-of-year accounting.