A therapist is any user who sees clients in session. Each therapist is tied to their own Therapist Profile, built from their professional information and unique availability.
This article reviews how to configure Therapist Profiles. Practice Owners or Office Admins can create and deactivate Therapist Profiles. Once the profile is created, therapists can edit their own profile.
Practice Owners must create the Therapist Profiles. Once created, the therapist is able to edit their own information.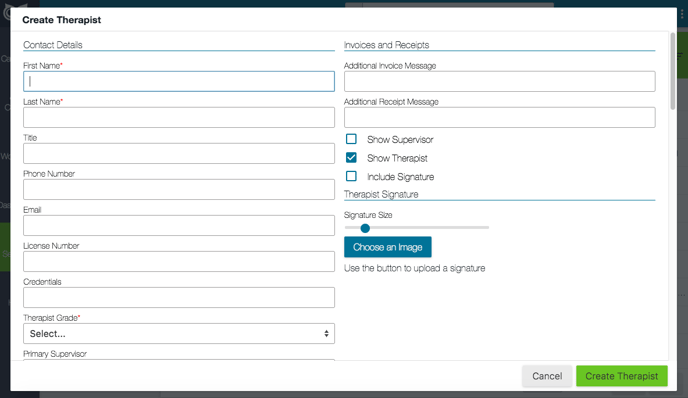 The details in this area are used on invoices, receipts, Online Booking, notes, supervision, and more. Ensure that this is updated regularly to prevent incorrect information on financial documents.
When editing any details to a Therapist Profile, always click the green Update Therapist button before navigating to the next page as there is no auto-save feature on this page.
Contact Details
This area is used to build invoices and receipts. Supervisors are also noted here.
Invoices and Receipts
Enter a therapist specific additional message to include on all invoices and receipts for this therapist. This message is unique to the therapist, and is different than your general invoice or receipt footers. You can also decide if invoices and receipts should:
Show the supervisor
Show the therapist
Include signature
Note - invoices and receipts can only contain one signature. If this therapist is supervised and you have opted to "show supervisor" and "include signature," the supervisor's signature will be included instead of the therapist's.
Therapist Signature
Upload your therapist's digital signature here.
Press the Choose an Image button to find your digital file
Once uploaded, drag and drop the Signature Size bar to adjust the signature size.
Signature image files must be under 450 kilobytes (kb), and in PNG, GIF, or JPG format.
Supervisors
Set your therapist's supervisor here. Please familiarize yourself with Owl's supervision functionality
here
.
Colour
The therapist's sessions will be this colour in the Calendar. Select from the presets or type in a custom hex code to customize colours further.
Deactivate a Therapist
To protect your historical data, there is no way to delete a Therapist Profile. If a clinician leaves your team, you can deactivate their profile to reflect that they no longer work for you.
To deactivate a therapist:
Click the checkbox next to their name on the list of profiles under Settings > Therapists
Click Set Inactive.