Secure Messaging is enabled by default in your account. To disable Secure Messaging, go to
Settings > Secure Messaging
and change the status to "Disabled".
If you have the Client Portal add-on and Secure Messaging is enabled for your account, you will also need to ensure your Therapist Profile has Client Portal enabled (Settings > Therapists). Once this is set, clients who have created portal accounts will see a tab called
Messaging
:

When clients click into the
Messaging
section, they see a banner of text at the bottom of the page with a default message that provides a brief description of the feature and advises that response times from the clinic are not guaranteed.
Secure Messaging does allow for instant messaging style chatting. If both parties are online at the same time and chatting, messages can be sent and received instantaneously! It's an amazing way to connect with your clients, but also makes it pertinent for the practice to outline their desired messaging policies to clients. This tool is appealing to clients and allows you another way of staying in touch, but you want to make sure you establish a precedent for how you use this feature with clients that is reflective of your communication policies and standards.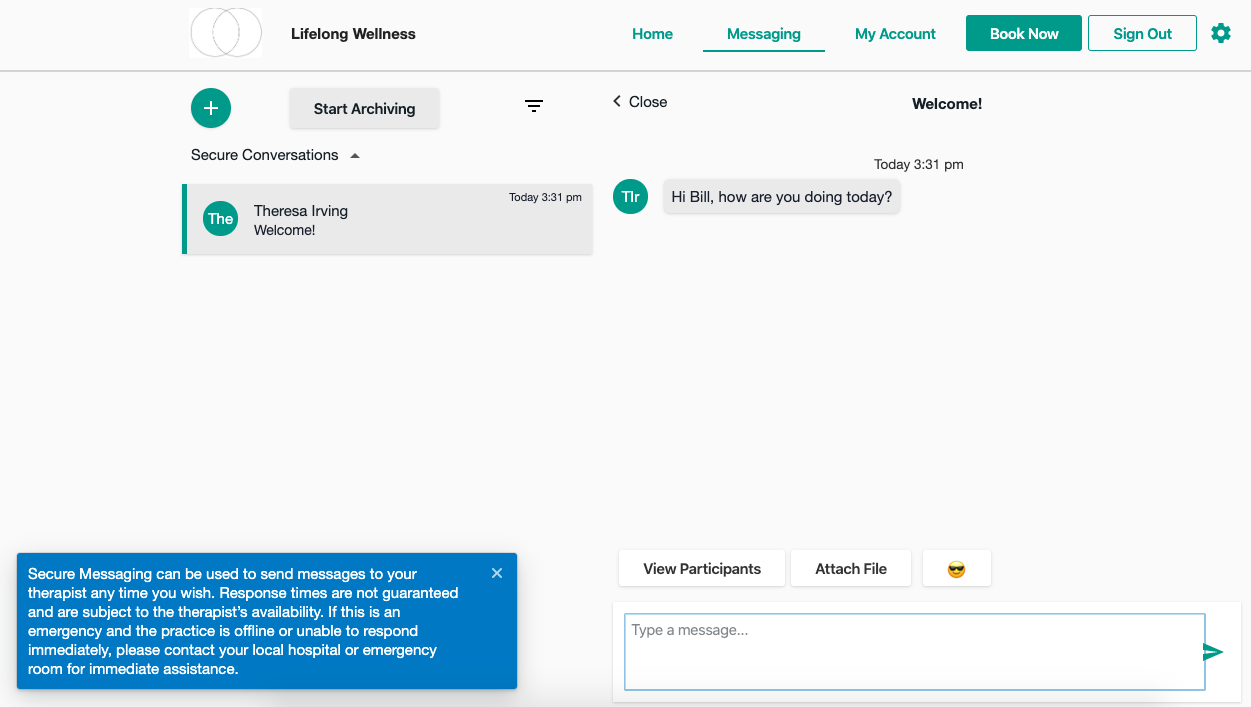 To edit the text that appears here, go to
Settings > Secure Messaging
and type your preferred copy into the "Informative Banner" field:
Any copy input into this banner appears on the
Messaging
page of the Client Portal to all of your clients so it's important to keep the message generic. It's best used for outlining any policies about messaging that you want clients to be aware of when using this feature.
Important Note:
Only users with a Therapist profile can send Secure Messages to clients. Office Admin users cannot participate in Secure Messaging conversations with clients. Office Admins can use Secure Messaging to have conversations with other users at the practice, but they are not permitted use of Secure Messaging with clients.
If your practice does not have the Client Portal add-on, you will only be able to use Secure Messaging as an internal office communication tool with other users at the practice.
Contact us
at any time to upgrade your plan and add the Client Portal.