Group Edition users have a shared Calendar. This is extremely beneficial for practices with assigned rooms, and for knowing what other therapists are up to during the day.

However, when Group users have a shared Calendar they cannot see their availability, because "layering" them would look very messy. Group users should still set their availability, and they can view it by "hiding" all other therapists in the Calendar sidebar. You can hide/show each Therapist's Calendar individually in the Calendar by selecting the checkbox next to their name, or you can press "Select All" to hide/show them all at once.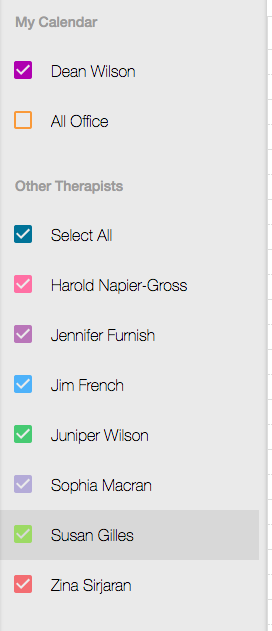 If you are a Therapist User in Owl's Group Edition, and cannot see other people's schedules, this will be because your practice has limited Therapists in your practice to only be able to see their own Calendars.

You will also notice that your Client and Personal sessions are the same colour in shared Calendars. This is to ensure your sessions are visually streamlined!